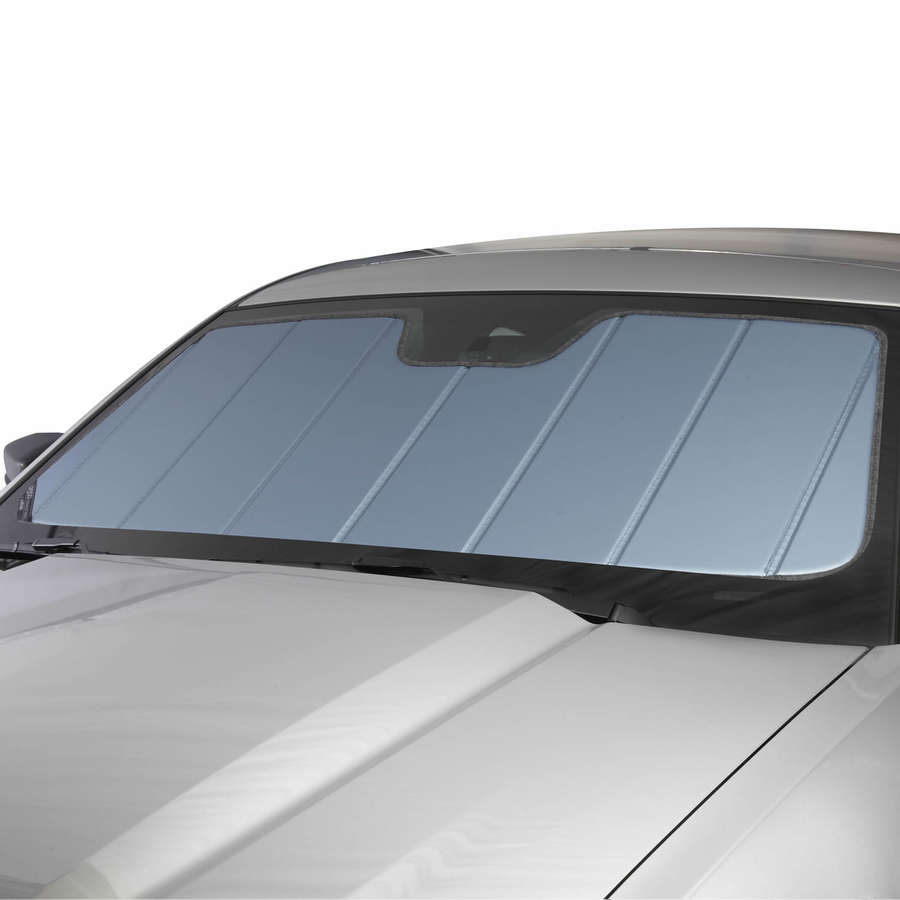 Weathertech vs Covercraft Sunshade
We've all experienced the blistering effect of the sun on the interior space of our vehicles. You get into your car, and it feels like an oven since you left it out in the scorching sun.
The seats are burning, the steering wheel is untouchable, and the humid air makes breathing nearly difficult. Even if you try putting the air conditioner in, it will take forever for the car's interior to cool down and be favorable for you.
Sometimes you have no choice but to roll down the windows to allow some cold air. Did you know that there is a tool you can use to prevent such? Sunshades perform an excellent job of concealing the windshield from the sun's rays, keeping heat from reaching your vehicle's interior.
Sunshades also protect the dashboard, front seats, and console from the harmful effects of the sun. Furthermore, they eliminate heat suffocation whenever you park your car in the sun for an extended period.
In this article, we will compare and contrast the two popular automobile sun shades: Weathertech and Covercraft. These windshield sunshade models can keep your car cool even when the sun outside is hot.
Despite the fact that they provide similar solutions, they are distinct in their ways. As a result, anyone considering purchasing a sunshade may be puzzled between the two options.
Do you have trouble deciding between Covercraft and Weathertech sunshade? Continue reading to know more about two sunshades.
WeatherTech creates the most delicate travel equipment- It's no exception with their sunshades. The WeatherTech TechShade Windshield Sun Shade has a clever double-sided design with a reflective silver side.
It will keep your cabin cool in summer and has an absorbent black side to keep it warm in the winter. If you're looking for a Ram or a Honda sunshade, the TechShade is custom-made to fit your year, make, and model perfectly. It has in-built suction cups for a secure mounting and folds up with a Velcro strap.
Covercraft Overview
Covercraft is a respectable sunshade brand that creates customized sunscreens to keep your car's interior sheltered from the sun's Ultraviolet rays.
These inexpensive sunshades offer great comfort and an incredible ride when it's hot. Covercraft protects your car's radio, GPS, and other electrical gadgets from being damaged by the sun's heat.
The silver sunscreen blocks the sun's heat rays and may be tailored to match your car's windscreen. It's not a roll-up shade like Heatshield.
The non-roll-up feature of Covercraft makes it suitable for automobile owners who desire an easier-to-install and remove sunshade. Covercraft sun shades are folded and kept inside the vehicle when not in use.
Custom-Fit

Full Vehicle Kits

Dual-Purpose Design

Cools in summer

Heats in winter

Roll-up feature

Sturdy Core

Effortless Storage
Features of Covercraft Sun Shade
Custom Patterned for an Easy Fit

Triple Laminate Construction

Non-roll-up feature (Foldable)

The foam core center acts as an insulator

It helps reflect damaging UV rays

One year warranty
Weathertech vs. Covercraft Sunshade: Differences
Installation and Removal Technique
Weathertech is a roll-up sunshade, whereas Covercraft is a foldable sunshade. That is a significant difference that should be considered while choosing a sunshade.
Depending on your preferences, you can either roll or fold your sunshade during installation. You have complete control over your decision. According to most people, folding is preferable to rolling.
Another significant difference between these two sunshades is the area they can cover. You will only be concealing the windshield if you go with Covercraft.
Weathertech, on the other hand, protects the windshield, the two front-seat windows, and the rear window. The latter provides the best sun protection and is excellent for automobile owners who are serious about preserving their vehicle's interior from the sun.
Weathertech vs. Covercraft Sunshade: Similarities
If your vehicle has little room, be prepared for some inconvenient storage. The Covercraft and Weathertech are bulky, making storage difficult for car owners. The chances of the two of them fitting under your seat are minimal.
Offer Protection from Hot Sun Rays
Both provide heat-ray protection. If you've had enough of the sun's burning influence on your automobile's interior, either of these solutions will keep it cool at all times.
The top material reflects the sun's heat rays, while the other substance on the interior keeps the indoor temperature constant.
Weathertech vs. Covercraft Sunshade: Frequently Asked Questions
Is Weathertech Sunshade Worth Its Price?
Weathertech manufactures an easy-to-install sunshade that fits most models. It's an excellent choice because it prevents excessive heat from entering your vehicle. By obtaining a Weathertech sunshade for your vehicle, you can avoid overspending on cooling your car in the heat.
What's good about Covercraft?
People who remark that not all sunshades are made equal presumably refer to Covercraft. It's a fantastic product for difficult-to-fit vehicles. Top mechanics like Covercraft because it provides 100 percent heat protection.
It's a sunshade for the windshield, and it's highly effective at blocking UV rays. The sun's rays are absorbed mainly by your car's interior through the windshield. Only a small percentage passes through the windows.
Covercraft looks excellent, but it also keeps your windshield in place. The high-quality sun ray repellent material blocks all solar rays from entering your car.
So, if you're worried about the dashboard losing its luster, pick up Covercraft and enjoy complete protection.
Are Sunshades Genuinely Beneficial?
Keeping your interior temperature low will help prevent materials from breaking down and reducing off-gassing. With that said, a cheap sunscreen can surely assist in preventing these two problems. It can keep one's health safe, a car looking decent, and its worth high.
 Who Benefits from Covercraft and Weathertech Sunshades?
Covercraft and Weathertech sun shades are ideal for cars that are driven frequently. Are you on your way to work daily, and the parking lot is in the sun? Bring the Covercraft or Weathertech along. Install it in under a minute and get to work.
Since Covercraft is a windshield-only sunshade, it's a quick way to keep the sun's rays from damaging your car's upholstery, seats, and dashboard electrical components. The company also sells custom sunshades, so you're likely to find one that fits perfectly.