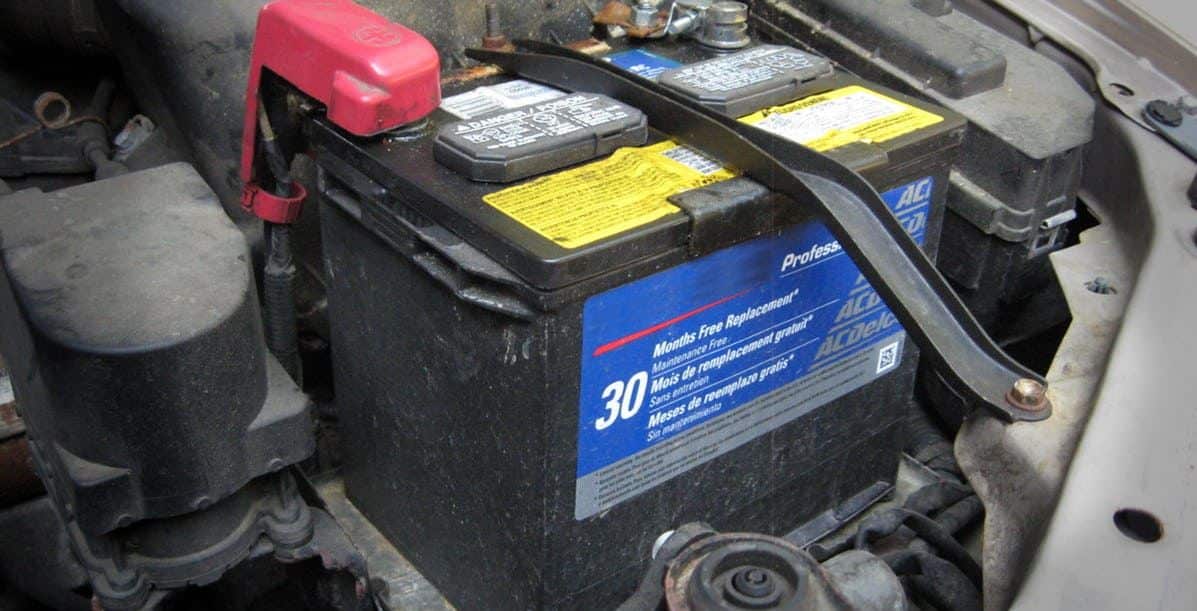 Best Car Battery for Cold Weather
Getting used to harsh winter temperatures is not hard at all. You just need a central heating system put in place, and all your problems will be solved. Unfortunately, the same thing cannot be said regarding car batteries because, mostly, many car batteries fail during bone-shattering chilly climates.
It is a common scenario, and you've probably seen cars packed on the roads and covered in snow, mostly due to a failed battery. Along these lines, you need exclusive car batteries for cold weather.
What are The Best Batteries for Cold Weather?
If you reside in areas where winter is exceptionally cold, then the best car battery for cold weather is essential to give you confidence on the road. While conventional batteries are not designed to resist cold. Absorbed Glass Mat (AGM) batteries are considered ideal for cold winters as opposed to standard flooded batteries (or what might classify as "normal" car batteries).
AGM batteries are usually more expensive, but they produce greater starting power, higher Cold Cranking Amps, lower discharge rates, and are more durable. As such, AGM batteries tend to make for a reliable winter battery.
Absorbed Glass Mat batteries, as the name suggests, are designed with a mesh made of absorbent glass to harness energy. Contrary to conventional batteries, AGM batteries feature a special fiberglass mat to absorb the electrolyte solution. This design allows them to store electrolytes in a "dry" state rather than liquid.
AGM batteries are also considered "Spill-proof" and "maintenance-free," meaning there will not be acid leaking out if they are tilted. That is because the stated glass mat absorbs the sulphuric acid in the battery.
The fact that electrolytes are absorbed into a tight fiberglass mat rather than hanging lead plates in the electrolytes solution makes AGM batteries more resistant to intense shocks and vibrations than traditional batteries, which tends to reduce the overall product life. This same design also allows AGM batteries to drum up more staring power for your vehicle during cold weather.
That said, we've made things easier for you. We have discussed everything you need to know about the best car batteries for cold weather so you can get a clear idea before purchasing a car battery. Here are the best car batteries for cold weather:
XS Power DC6500 Battery with Terminal Bolt
The XS Power DC6500 is our favorite pick, and for a good reason. It is a powerful battery with Cold Cranking Amps of 1000 and comes with a terminal bolt that makes it ideal for automotive, truck, and even marine applications.
This battery also features a sealed Absorbed Glass Mate design, which makes it more secure. There's also a special fiber mat that creates an inner compartment to prevent the movement of electrolytes inside the container. That means the battery is less prone to leaking, and you can install it in any position. Moreover, less leakage means you need less cleaning and maintenance.
The AGM battery is also designed to have a very low internal resistance. It is lightweight and can deliver a lot of power. Not to forget that it goes very long without charging. According to customer reviews, the engine starts faster with this battery compared to other brands. The audio system and all the accessories onboard can drain a lot of power, causing dimming the lights- but you won't have such problems with this battery.
Pros
 

Very powerful AGM battery

 

No voltage dropping

 

No leakage problems

 

Mountable almost anywhere in the vehicle
Cons
Odyssey 65-PC1750T Automotive and LTV Battery
The 65-PC1750T Automotive and LTV Battery from Odyssey might be among the most expensive car batteries on our list. Still, it packs a lot of features and boasts an excellent performance rating that makes it even more worth buying.
Aside from being one of the biggest brands in the automotive industry, Odyssey has a number of hardware that can get all of your work done. The brand offers quality products alongside excellent customer support that makes shopping with them even better.
Some of the impressive features of the Odyssey 65-PC1750T battery include the fact that it comes with a great Cold Cranking Amps Capacity of 940. Indeed, it's by far the most reliable CCA rating on the market. Plus, it serves well for people living in exceptionally cold climates.
The battery also offers a reserve capacity of 145 minutes- and with this much threshold at your disposal, you'll hardly encounter any problem while getting your car started. Moreover, the 65-PC1750T battery lifespan is much longer compared to other batteries in the same range. Plus, it takes four hours at most to recharge the battery completely.
Overall, if you're searching for a battery with excellent performance in cold weather, and comes on the pricier side, then you will be wise to consider the Odyssey 65-PC1750T. This battery is totally worth the money and will last for years.
Pros
 

Great functionality and construction

 

Solid CCA rating

 

Great performance
Cons
Diehard 38232 775 CCA
With Cold Cranking Amps of 775, the Diehard 38232 775 CCA is designed to keep your car running even at sub-zero temperatures.
Similar to other models on our list, this battery features a sealed AGM design that ultimately gives you more peace of mind on the road than those traditional flooded designs.
You can install it the way you wish without stressing about acid leakages, and the chances of severe corrosion are significantly reduced.
The Diehard 38232 is also 20x resistant to vibrations and shocks. This feature comes in handy if you're taking a ride through turbulent roads or setting out on a 4 x 4 adventure. You can brave through desert dunes and rocky grounds without worrying about leakages or damages to the inner components.
Pros
     

Spill-proof AGM design

     

Relatively high CCA

     

20x vibrations resistance
Cons
Acdelco ACDB24R Advantage
The ACDB24R Advantage by Acdelco features the lowest Cold Cranking Capacity on our list. However, it's still within the average range of what you might expect with most vehicle batteries- considering that it has excellent customer support even from people living in exceptionally cold regions.
It comes with an AGM design. That means the ability to deliver lots of current consistently and the ability to install in any position without leaks are pretty much guaranteed. The AGM design also ensures no corrosions since there will be no leakages from the battery.
The Valve Regulate Gas Recombination Technology employed here ensures that the battery's electrolyte solution remains inside the sealed compartment. "Gas Recombinant" means that while most of the oxygen produced at the positive lead plate will react with hydrogen at the negative plates (creating water), there will be minimal water loss, so you don't need to top up your battery now and then.
According to Acdelco, this battery has a lifespan that is three times longer than what you get with regular batteries. Although it sounds more like an exaggerated marketing slogan than a fact, we still doubt that the ACDB24R will last quite a long time.
Pros
     

Relatively light at 31.4 pounds

     

Valve Regulated Gas Recombinant Technology

     

18-month warranty

     

Spill-proof AGM design
Cons
     

Not the best CCA rating on our list
Kinetik Black Power Cell Battery
If you're looking for the best budget battery for cold weather, then the Kinetik Black Power Cell Battery could be the best option. It comes at the best price but has some downsides too. First, it can handle the extreme cold like other models discussed above, as it has Cold Cranking Amps of 550. That said, you can effortlessly count on it in moderate cold.
More to being one of the best batteries for providing starting power, the Kinetik Black Power Cell Battery can be an excellent choice to keep your audio system and other power-demanding accessories running for a relatively long time. In fact, it supports an audio system of up to 1200W.
The design is non-spillable, and the cells are closely packed, meaning the battery can deliver a higher voltage compared to flooded batteries. Moreover, it is compatible even with smaller vehicles. Another gripe, however, is that the battery discharges quite faster, and you will need to recharge more frequently for smooth performance compared to other top-rated models in this list.
Pros
     

Compact design

     

Reasonably priced

     

Easy to install
Cons
     

Not the best for extreme cold

     

No ideal for oversized vehicles
Optima Dual Purpose Yellow Top Battery
Known for its innovativeness and best quality batteries, Optima is a leading brand in the automotive industry, and their Dual Purpose Yellow Top Battery is no exception. As the name suggests, the Dual Purpose Yellow Top Battery is a truly dual-purpose battery and boasts a Cold Cranking Amps of 620. It's strong enough to support both the dual cycle and starting process.
With the AGM design, this battery is secure as the Spiralcell will help keep the components intact inside the battery. As such, you can brave through rough roads without any leakages. And with its lower inner resistance, the Dual Purpose Yellow Top Battery is ideal for use in cold weather.
We also appreciate the fact that this battery features some of the safest materials. For instance, the yellow polypropylene top is thermoplastic. That means even when the battery gets too hot, it will not burn but melt instead. Still, you don't have to fret about the melting either. The Melting point for polypropylene is 270°F- so just forget about the melting.
Pros
 

Spill-proof

 

Dual- Purpose battery

 

Heat resistant

 

Vibration resistant
Cons
 

Claiming the warranty is a hassle
ACDelco 78AGM Professional AGM Automotive
Similar to other recommendations from ACDelco, the 78AGM Automotive battery is another best budget battery for cold weather worth considering. This battery offers you not just an affordable option but also excellent build quality. It comes in a calcium silver housing that promotes the overall lifespan of the storm. The housing is also meant to conveniently attenuate shock and intense vibrations, so the battery doesn't get damaged in the process.
ACDelco batteries are also designed with an excellent fluid circulation that keeps them from overheating. And being a Group 78 battery, this Professional AGM automotive battery has a Cold Cranking Amps of 725, which is pretty much impressive considering the price range. It brings you the surety you need in terms of longevity and performance in a cold climate.
Lastly, the reserve capacity of this battery stands at 96-minutes- higher than the previous ACDelco model. It is accompanied by a three-year warranty, so quality and overall value for money are guaranteed.
Pros
 

Great price point

 

Best for cold climates

 

Excellent build quality
Cons
 

Some have reported an early battery failure
Delphi MaxStart AGM Premium Automotive Battery
The Delphi MaxStart AGM Premium Automotive Battery is designed for deep cycle life. The battery has 20 times more resistance to vibrations than traditional batteries, and you can place it in a different position.
The AGM (Absorbed Glass Mat) design comes in handy to secure the inner fluids. That means no leakage instances and thus low-to-zero maintenance. The reserve capacity is 140 minutes, and the overall housing is sealed and enhanced with a venting system. The whole thing is corrosion resistant and improved with compound compression.
Pros
 

Vibration resistance

 

Faster recharge

 

Great power for emergency
Cons
 

A bit heavy

 

Not the most durable
The Bottom Line
These are some of the best car batteries for cold weather that we found to be highly commendable. You might want to invest in a good car battery that has a higher tolerance for extremely low temperatures because they are less likely to die during winter drives.