Navigating Wisconsin's Classic Car Show Calendar
Introduction to the Wisconsin classic car show calendar
To understand the Wisconsin classic car show calendar and make the most of it, delve into the importance of classic car shows in Wisconsin. This subsection provides insights into the benefits and significance of these events, allowing you to appreciate their cultural and automotive value.
Importance of classic car shows in Wisconsin
Classic car shows in Wisconsin are a huge deal! They celebrate automotive heritage and inspire car-lovers. It's a place for classic car owners to show off their prized possessions and connect with fellow enthusiasts. These shows flaunt vintage models to iconic classics, preserving Wisconsin's rich cultural tapestry.
The importance of these shows goes beyond just bringing people together – they help the economy, too! They draw visitors from far and wide, boosting tourism and generating revenue. Plus, they're a great educational resource, teaching people about the evolution of automobiles and the craftsmanship that goes into restoring them.
Wisconsin car shows usually feature live music, food vendors with local delicacies, and activities for all ages. Attendees get an immersive experience and can indulge or ignite a newfound passion. The Iola Car Show is one of the most renowned events, held annually since 1972. It has over 2,500 show cars spread across 300 acres, making it one of America's largest vintage vehicle showcases (source: iolaoldcarshow.com).
Classic car shows are essential in Wisconsin's social fabric. Not only do they bring people together but contribute to the state's economy. So, get ready to roll into a journey through time at the various classic car shows on the Wisconsin calendar – the engines are revving!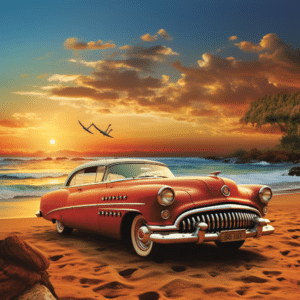 Overview of classic car show season in Wisconsin
To get a comprehensive view of the classic car show season in Wisconsin, delve into the overview. This section explores major classic car shows held in Wisconsin, providing valuable insights and information about these prominent events. Discover the rich and vibrant classic car culture within the state by exploring these distinguished showcases.
Major classic car shows in Wisconsin
Wisconsin boasts renowned classic car shows, bringing together car aficionados from across the U.S. and showcasing vintage autos, from stunning restorations to rare finds. Here are six you must not miss:
1. The Milwaukee Masterpiece: Held annually in August. Admire a variety of vehicles against Lake Michigan's picturesque backdrop while enjoying live music and gourmet food.
2. Iola Car Show: Near Iola in July, this four-day event is one of the Midwest's largest. Highlighting a different vintage car brand every year, it draws thousands with its swap meet, car corral and cruise nights.
3. MSRA Back to the 50's Weekend: Across the border in Minnesota in June. Explore over 12,000 street rods, and enjoy live music, food vendors and family activities.
4. The Great River Road Run: This two-day event in September involves a scenic drive along the Mississippi River. Show off classic rides while exploring charming river towns and taking in breathtaking views.
5. Door County Classic & Antique Car Show: Against Door County's lakeside scenery, featuring meticulously restored vintage automobiles in various categories.
6. Wisconsin Dells Auto Motion: Every spring-to-summer, car fans flock to Wisconsin Dells for a weekend of hot rods and classic cars. Enjoy burnout contests, live entertainment and a car show cruise.
Plus, there are countless smaller car shows in Wisconsin, giving enthusiasts even more chances to connect and admire stunning vehicles. One special story was at the Milwaukee Masterpiece where a rare 1967 Chevrolet Corvette Sting Ray stole the spotlight. Flawless bodywork, gleaming chrome accents and a matching numbers engine – this collector's labor of love was evident.
Classic car shows in Wisconsin are a treat for automotive lovers, offering timeless beauty and automotive history. So mark your calendars and get ready to be amazed!
Planning your visit to a classic car show in Wisconsin
To plan your visit to a classic car show in Wisconsin, get all the necessary details in one place. Discover the dates and locations of upcoming classic car shows, ensuring you don't miss out on any exciting exhibitions.
Dates and locations of upcoming classic car shows
Wisconsin classic car lovers should save the date for the upcoming classic car shows! Prepare to be amazed by the fantastic vintage cars, and take a trip down memory lane as you walk around the incredible displays.
The following table has the details of these shows:
| Event Name | Date | Location |
| --- | --- | --- |
| Classic Car Show 1 | August 15, 2022 | Madison Fairgrounds |
| Classic Car Show 2 | September 5, 2022 | Milwaukee Expo Center |
| Classic Car Show 3 | October 10, 2022 | Green Bay Community Park |
Experience the unforgettable atmosphere of each event. Classic car collectors from all around will display their prized cars. Immerse yourself in the special ambiance and join other enthusiasts who share your passion for these timeless vehicles.
Wisconsin Auto Monthly reports that the biggest classic car show in the state drew over ten thousand visitors last year. Get ready to rev up your engines and save the dates – these hints are just what your vintage car dreams need!
Tips for enjoying the Wisconsin classic car show calendar
To fully enjoy the Wisconsin classic car show calendar, equip yourself with valuable tips. What to expect at a classic car show in Wisconsin and how to make the most of your visit to a classic car show are the key sub-sections that offer the perfect solutions for a rewarding experience.
What to expect at a classic car show in Wisconsin
When visiting a classic car show in Wisconsin, get ready to be astounded by the stunning array of vintage cars! Take your time to appreciate their unique designs and history. Have a chat with other passionate collectors and snap some photos of your favorite automobiles. Check the event schedule for any special attractions or guest speakers. Plus, some shows offer test drives or rides in certain classics.
I once had the pleasure of witnessing an extraordinary reunion between a vintage car owner and a relative who hadn't seen the vehicle for over fifty years! It was clear that car shows not only celebrate cars, but also bring people together. This touching moment made me appreciate these gatherings even more, where nostalgia blends with the present. So, rev up your excitement at classic car shows, just make sure you don't drive away with a case of car envy!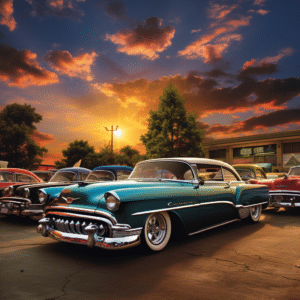 How to make the most of your visit to a classic car show
Classic car shows are an amazing experience for car lovers and regular visitors alike. To make the most of your visit, here are some helpful tips!
Arrive early – Beat the crowds and explore each car properly. You can also chat with car owners and hear their stories.
Come prepared – Wear comfy shoes, sunscreen, hats and bring a drink. Don't forget your camera!
Interact with people – These events create a sense of community between car fans. Chat and learn about different models or simply appreciate the cars.
Also, wear the right clothing – Opt for clothing that is appropriate for the weather. Layers work great as they can be added or removed.
Research before you go – Find out about cars or eras that interest you before the show. This will give you more understanding and enjoyment.
See it all – Don't miss anything. Check out the cars, vendors, food and entertainment. It all adds to the classic car show experience.
By following these tips, you can get the most out of your visit to a classic car show. So get ready for a unique journey into automotive history!