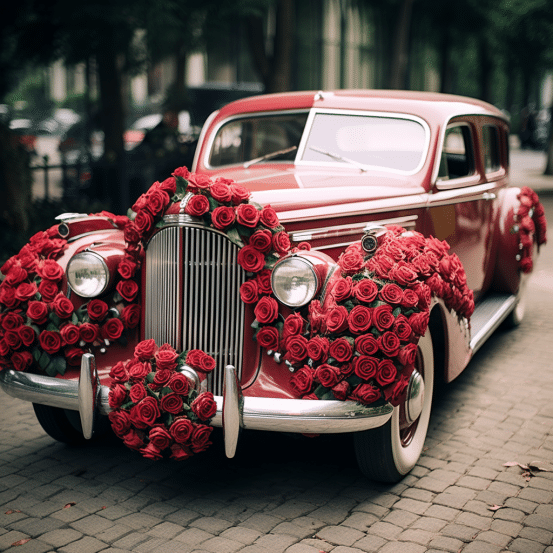 Car decoration for wedding: Celebrations with Personalized Flair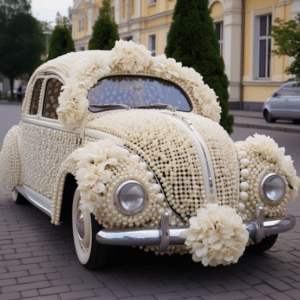 Car decoration for weddings for Memorable Celebrations, Weddings are a joyous event, full of love and laughter. What better way to show style and extravagance than by decorating the wedding cars? This is really significant, as it adds visual appeal and sets the tone for the whole event. From flowers to banners, the possibilities are endless!
Couples today are choosing personalized decorations, reflecting their unique love story. They can choose colors, themes and embellishments according to their preferences. Some might go for classic white flowers and satin ribbons for a sophisticated look. Others may pick vibrant hues or even incorporate balloons and paper lanterns.
Car decorations not only look great, but they also have practical uses. Signs like "Just Married" or "Happily Ever After" add excitement while signaling that this is a special occasion. Plus, they make beautiful backdrops for photographs.
The history of car decorations is fascinating. In ancient times, chariots were adorned with floral garlands and used to transport newlyweds. In some cultures, tying cans or shoes to the bumper symbolized luck and fertility. Today, these customs have evolved, and couples can choose LED lights and digital displays. Skilled designers create beautiful visions that meet safety regulations.
Importance of Car Decoration for Wedding
Car decoration for weddings is highly important, as it adds a beautiful charm to the event. It's a visual representation of the couple's love and joy on their special day. These decorations not only give the venue a pleasant look, but also create long-lasting memories.
Aesthetics: Car decoration is key to making the wedding venue look amazing. A well-decorated car sets the tone for the entire occasion, giving guests a hint of what to expect.
Symbolic Representation: The adornment of the car symbolizes the couple's new journey. It represents them embarking on a life of happiness and prosperity.
Photography Opportunities: A beautifully decorated car provides stunning photographs. These shots will be cherished reminders of their special day.
Glamour and Style: Car decorations give the wedding celebrations a glamorous touch. They show off the couple's unique taste and leave a lasting impression.
For a truly unique decoration, personalize the car with monograms or initials. Also, choose colors that match the wedding theme. To make the car stand out even more, here are some ideas:
Fresh Flower Arrangements: This adds natural beauty and a lovely fragrance.
Ribbons and Bows: Colorful ribbons and bows can make the car look enchanting.
Balloons: These bring a sense of fun and joy to the event.
LED Lights: Illuminate the car with gorgeous LED lights for a mesmerizing effect.
These suggestions enhance the car decoration's aesthetic appeal. Plus, they match the wedding theme perfectly. By incorporating these ideas, couples can ensure their car decoration looks amazing.
Choosing the Right Car for Decoration
Choosing the right car for decoration is a must for a perfect wedding ceremony. It serves not only as a mode of transport but also reflects the couple's style and personality. Here are some tips to consider when selecting the perfect car:
Theme: Pick a car that complements the wedding theme. A vintage car for traditional weddings, and a sleek & modern car for contemporary ones.
Size: Opt for a spacious vehicle that can fit in decorations without compromising comfort.
Color: Coordinate the car color with the wedding palette. Matching or complementary colors add extra sophistication.
Personal touches: Adding signs, monograms or flowers that have sentimental value, make the car unique.
Remember to check its practicality too. Ensure that it can comfortably transport the bride & groom.
My cousin's wedding was memorable. They rented a classic convertible in vibrant red. As per tradition, it was adorned with beautiful floral arrangements that fit the rustic theme. Everyone was amazed when they drove away in that stunning car, creating a joyous atmosphere!
Selecting the Theme and Style
To comprehend the selection process for theme & style better, let's look closer at the factors.
Factors to consider:
Couple's Personality
Wedding Theme
Color Palette
Budget
Couple's Personality: Decorations should show their unique personalities. Whether elegant & sophisticated or fun & quirky, adding individual traits will make it more personal.
Wedding Theme: The theme is essential in deciding the car's style. For classic/traditional, timeless floral arrangements or ribbons. For a bohemian-themed one, natural elements like greenery & wildflowers can be used.
Color Palette: Choosing colors that go with both the wedding color scheme & tone of the event is key. A coordinated palette will make everything visually blend together.
Budget: Knowing your budget is vital. Options are available at different prices. DIY projects or help from artistic friends can save costs.
Gathering the Necessary Supplies
When decorating a car for a wedding, gathering supplies is essential. Here are some ideas and tips to create a memorable setup:
Get ribbons and bows in various colors. Attach them to the car's exterior with adhesive or magnetic hooks.
Buy window markers or washable paint pens. Use them to write messages or draw designs on the windows.
Buy fresh or artificial flowers that match the wedding theme. Put them around the car's edges, door handles, and mirror brackets.
Get helium-filled balloons in coordinating colors. Tie them with ribbons and attach them to each side of the car.
String lights or fairy lights are great for evening weddings. Wrap them around the car's roof rack or attach along the windows.
For something unique, add silk drapes, wreaths, or potted plants. These unconventional supplies show your individuality.
Here's how and why each supply works:
Ribbons and bows: They make the car festive and easily removable.
Window markers/paint pens: They let you express creativity and interact with onlookers.
Flowers: They bring freshness and elegance, creating a romantic atmosphere.
Balloons: They attract attention from afar and symbolize celebration.
String/fairy lights: They add a magical touch, making the car look enchanting.
Gather these diverse supplies to transform the car into a symbol of love and joy. Embrace creativity, consider the wedding theme, and let your joy shine through.
Preparing the Car for Decoration
Getting the car ready for decoration is key for wedding prep. A nicely decorated car adds beauty and style to the whole wedding. Here's a small guide to get your car ready for decoration:
Clean and wash the car. Before you start to decorate, make sure to clean and wash the car inside and out. Remove any dirt, dust, or debris. This helps the decorations stay in place and look great.
Pick the right decorations. Choose decorations that fit the wedding's theme or colors. Think of flowers, ribbons, bows, balloons, or special signs. Make sure they're safe and won't block visibility while driving.
Secure the decorations. After you've chosen the decorations, attach them to the car. Use tape, suction cups, or magnetic strips. Make sure everything is secure to avoid any accidents while driving.
Also, think of creative details to add to the car decoration. Put in something that represents you as a couple, or an important message for the two of you.
Now, a fun fact! Decorating wedding cars is a very old tradition in many cultures. People thought it brought good luck and kept away bad spirits.
So, there you go! A short guide for car decoration and a cool history of this wedding tradition. With these tips, you can make sure your wedding car looks amazing and sets the perfect mood for your special day!
Designing and Applying the Decorations
Designing a wedding car's decorations is a vital job that demands careful consideration and detail. By following a step-by-step process, you can create an amazing look for the car that'll make the wedding even more special.
Step 1: Select a Theme
Pick a theme that fits the wedding's general style. This could be based on colors, blooms, or any other item of importance to the couple. Be sure the chosen theme matches the car's structure and mirrors the couple's personality.
Step 2: Look for Inspiration
Take ideas from online sources or bridal magazines. Consider components such as ribbons, blossoms, balloons, and signs to add to the decoration. Put together a vision board to see how these parts work together.
Step 3: Plan Your Decorations
Measure different sections of the car where you'll hang decorations. Think about both the exterior and interior. Make a list of materials like adhesive tape, suction cups, or magnetic strips that'll attach the decorations without damaging the car's surface.
Step 4: Get Supplies
Once you've planned the layout, get all the required supplies. Buy or make DIY decorations based on your chosen theme. Use high-quality materials that'll stand up to the weather and last all day.
Step 5: Hang the Decorations
Start by cleaning and preparing the surfaces where you'll apply decorations. Handle delicate materials such as blossoms or ribbons gently to prevent damage. Attach decorations using adhesive tape or other appropriate methods.
Don't forget to obey traffic laws and safety regulations while decorating the wedding car. Don't block windows or mirrors that can affect visibility while driving.
Also, personalize certain parts like adding the couple's names or a special message to make the decorations one-of-a-kind. Put effort and thought into designing and hanging the decorations to create an eye-catching wedding car that brings an extra touch of beauty and elegance to the occasion.
Take advantage of this opportunity to make your wedding car truly remarkable. Start planning now and have fun crafting a beautiful decoration that'll stay in your memories for years.
Enhancing the Car Decoration with Additional Accessories
Spruce up your car decoration for a wedding with extra accessories! This will take it to a new level and create a special experience for the newlyweds and guests.
Think about:
Fresh flower arrangements in colors that match the theme.
Satin or organza ribbons in complementary shades, tied around the car exterior or mirrors.
Creative balloons in different sizes, colors and shapes.
Personalized decor like monograms or banners with the couple's names and wedding date.
These additions will make your decoration stand out from the rest. It's a thoughtful way to honor tradition as centuries ago, weddings were celebrated with grand processions involving ornamental cars.
Let your creativity shine when you decorate a car for a wedding! Make the journey to happily ever after truly memorable.
Safety Considerations
Weight of decorations must be evenly balanced, so the car won't be imbalanced or unstable when driving. Keep decorations away from windshield, side mirrors, and rear-view mirror, so the driver's view won't be obstructed. Secure decorations with zip ties or strong tape to avoid them coming off while in transit. Abide by traffic regulations; don't use excessive or distracting decorations that may break laws or put safety at risk. Think about weather conditions and use materials that won't be harmed by wind, rain, or extreme temperatures – without posing any danger. Talk to the driver beforehand, to make sure limited visibility isn't caused by decorations.
Important: these tips shouldn't cut down on creativity or elegance. Safety can still be prioritized with beautiful decorations, for a worry-free wedding day. Reusable decorations are great: reducing waste, and allowing for future use at anniversaries or other special occasions. It is also wise to consult professional wedding decorators – they know how to make safe and stunning decorations.
Tradition has it that even in ancient times, chariots were decorated with beautiful designs for wedding processions. This tradition shows the significance of love celebrated with visual splendour. Car decorations for weddings have developed over time – from simple floral arrangements to extravagant themes. This tradition continues to add charm and cheer to special days.
Final Touches and Finishing Up
When it comes to car decorations for a wedding, details matter! Here's a guide to help you finish up perfectly:
Wash the car – Get it spotless before you start decorating.
Choose a theme – Pick one that matches the wedding style and reflects the couple.
Get supplies – Gather ribbons, balloons, flowers, and signs that fit your theme.
Be creative – Use magnets or suction cups to attach decorations without harming the car. Hang ribbons and tie balloons to the side mirrors.
Decorate the inside – Add flower arrangements or personalized air fresheners.
Secure everything – Make sure all decorations are safely fastened.
Plus, add unique elements like custom window decals or use unexpected materials like fabric swatches or preserved flowers. Finally, unleash your creativity and make the newlyweds' journey more magical with beautiful car decorations!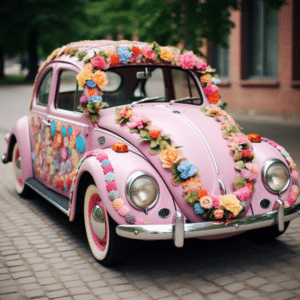 Conclusion
Car decoration is key to wedding success. Themes, colors and accessories provide couples with endless ways to personalize the day. Flowers, ribbons, balloons and signage create a festive atmosphere. Decorations are not only beautiful, but they can be practical too. Signage or banners with names and wedding date can help identify the wedding car. It also symbolizes the start of a new journey for the couple.
Car decoration companies offer customization options from simple to extravagant. Couples can pick based on their personal style and the wedding's theme. According to WeddingWire's 2021 Newlywed Report, 79% of couples include car decoration in their plans. This shows the growing popularity and importance of wedding car decoration.
Frequently Asked Questions
FAQs: Car Decoration for Wedding
Question 1: Why is car decoration important for a wedding?
Answer: Car decoration adds a festive touch and enhances the wedding ambience. It serves as a symbol of celebration and highlights the couple's special day.
Question 2: How early should I book car decoration services for my wedding?
Answer: It is advisable to book car decoration services at least a month in advance to ensure availability and allow time for planning and customization according to your preferences.
Question 3: What are some popular car decorations for weddings?
Answer: Popular car decorations include floral arrangements, ribbons, bows, and custom signs. Some couples opt for thematic decorations that match their wedding theme or incorporate personalized elements.
Question 4: Can I provide my own car for decoration?
Answer: Yes, most car decoration services offer flexibility to decorate your own car. Discuss your preferences with the decorator to ensure they can accommodate your chosen vehicle.
Question 5: How long does the car decoration process take?
Answer: The duration of car decoration depends on the complexity of the design and the size of the vehicle. Generally, it takes a few hours for the decorator to complete the task efficiently.
Question 6: Are there any restrictions or guidelines for car decorations?
Answer: Some venues or areas may have restrictions on car decorations, so it is essential to check with your wedding planner or venue coordinator beforehand. Additionally, ensure that the decorations don't obstruct the driver's view or compromise safety.